April 14th, 2010 Subscribe to WUSB Blog RSS Feed Bookmark
Hanshin Information Technology Inc. starts mass production for their Wireless USB based Multimedia System. It connects any windows based computer with HDTV's or projectors wirelessly through VGA or HDMI connections. It is an ideal product for OEM's around the World, because it supports hardware/software vendor customization and is compliant to Worldwide regulations.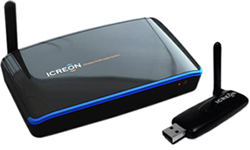 (via Web Research – April 15, 2010) Hanshin Information Technology, a South Korea based manufacturer, announced the beginning of mass production for its WUSB multi media solution under the ICREON brand.
The ICREON Wireless USB Multi Adapter HUWB-3000Kit is designed to connect any windows based computer to your HDTV or projector wirelessly through VGA or HDMI connections and 5.1CH speaker and stereo speaker wirelessly through S/PDIF or stereo connections. The kit sends video and audio wirelessly through a WUSB link between a PC and a HDTV at speeds up to 220 Mbps using UWB technology from Alereon.
The wireless multimedia adapter set provides full room coverage, making it ideal for a variety of use cases, such as wirelessly displaying internet content (provided over wireless LAN connection for example) on a large screen TV. The HUWB-3000 Kit is using the Alereon chipset (AL5100 / AL5300), which is certified by the USB Implementers Forum (USB-IF) for compatibility with other standards-based WUSB products. It provides a highly secure wireless connection using the WiMedia Ultra Wideband (UWB) technology and 128 bit AES encryption.
Features
Wireless connectivity from computer/notebook to flat TVs and Projectors, monitors
Full room coverage with line of site and non-line of site
Wireless VGA & HDMI connectivity for Displays
S/PDIF & Stereo connectivity for Speaker (5.1CH or Stereo)
32-bit True Color depth for high quality images
Support up to 1920 X 1080 resolution
HD Video up to 720P
Fully standard solution (Certified Wireless USB)
Worldwide regulations compliance
Windows XP / Vista / Win7 support
Supports mirrored or extended desktop mode
Support for hardware and software vendor customization
Several OEMs will be bringing this solution to market in 2010 and customers around the world will love the ability to be connected and up and running on these products in less than 5 minutes. Combine the ease of installation and use with the high quality video and you have a product consumers can't help but love. The HUWB-3000Kit is a product for World Wide usage by supporting all WiMedia Band Groups 1, 3 and 6 which enables end users around the world to use multiple channels in the legal frequency ranges in their particular country.
About Hanshin Information Technology Inc.
Hanshin Information Technology Inc. was established in 1999. We believe in the importance of high quality, competitive prices and prompt delivery. Just contact us today and discuss with us how our products can meet your unique requirement.
Headquarter Contact:
Hanshin Information Technology
395-13 Dongwon B / D 301
Galma-Dong Seogu
Daejeon
302809
South Korea
Tel: +82 42 532-8500
Fax: +82 42 532-9700
Entry Filed under: Certified Wireless USB
Related Information and News: